French Fries
Straight cut, 9 x 9 mm, 3/8"
Crispy classics for the deep fryer
Premium quality with full potato taste
Quick and easy preparation
For the production of the Agrarfrost products we use only the best potatoes from sustainable, German cultivation. Our products thus stand for monitored quality, pure potato taste and maximum enjoyment.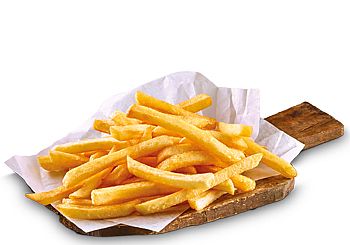 Best Choice
Preparation
Preparation in the deep fryer
Fill the fryer-basket half way with deep frozen product. Deep fry for approx. 3,5 minutes with oil at 170 –175 °C until a golden yellow colour. When preparing smaller quantities, the cooking time should be reduced.
More information: www.goodfries.eu
Product details
Article No.
13503 (Europe)
10503 (Overseas)
EAN bag
4003880005031
4003880105038
EAN carton
4003880015030
4003880205035
EAN pallet
4003880905034
4003880945030
Storage
Put the opened packaging immediately back into the freezer. Once defrosted do not refreeze.
| | |
| --- | --- |
| * -6 °C | 1 week |
| ** -12 °C | 1 month |
| *** -18 °C | 24 months from date of manufacture |