Agrarfrost - Professional
100% potato enjoyment for over 50 years
For our Agrarfrost products we only use the best potatoes from local cultivation. For nearly 50 years Agrarfrost has been a hallmark of excellent quality and is one of the most popular French fries brands in Germany.
At Agrarfrost everything comes from a single source - from seed breeding, potato growing and harvesting to the delivery of the finished product, we monitor the entire production process.
Our Agrarfrost products are manufactured using top-quality vegetable oils. All our products and ingredients are naturally subject to permanent quality control.
Natural ingredients
Agrarfrost French fries are made exclusively from freshly peeled whole potatoes. In our Clean Label recipes we consciously refrain from using ingredients such as artificial aromas, colours and flavours. Our 100% natural ingredients ensure the best Agrarfrost potato taste.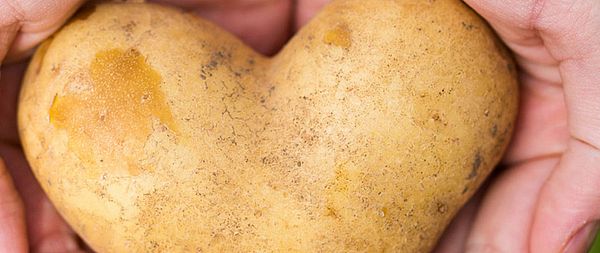 Highest standards
ZNU sustainability standard

To always be up to date on the subject of sustainability we have been a member of the Centre for Sustainable Corporate Management ('ZNU') since 2009. Together with its partners the ZNU has developed a sustainability standard that is designed to help companies structure and enhance their sustainability activities and credibly communicate those activities to the outside world. As the first German potato processor we have been certified according to the ZNU sustainability standard since 7.1.2014. This achievement motivates us to drive our sustainability activities forward.
Environmental and energy management

Environmental and energy topics are also firmly established within the management system and play a major role in our organisation. Important procedures to improve our environmental and energy performance indicators are defined. For example, we were able to have our environmental management system certified to DIN EN ISO 14001 back in 2004. The effectiveness of our energy management system was confirmed by certification to DIN EN ISO 50001 in 2013.
RSPO membership

In our production at Agrarfrost we use non-hydrogenated vegetable oils to a very large extent. As far as possible we substitute palm oil for other high-quality oils, e.g. sunflower oil. Since for technical reasons this is not possible with all our products, we cannot yet entirely forgo using palm oil. In September 2009 Agrarfrost – as one of the first companies in the potato industry – became a member of the Roundtable on Sustainable Palm Oil (RSPO). By purchasing certificates, our membership of the RSPO enables us to support the production of sustainable palm oil in producing countries such as Malaysia and Indonesia. Since 2012, we have been using solely 100% RSPO-certified palm oil. Our aim is to continue minimising the use of palm oil in the future.